San diego International Bible College
A WORD FROM OUR PRESIDENT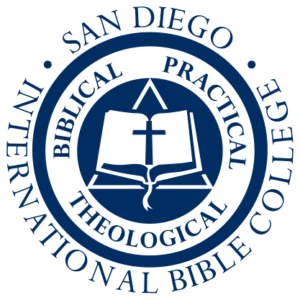 Today the Pentecostal and Charismatic Movements are the fastest-growing religious movements in history. San Diego International Bible College exists to assist in raising up a new generation of Spirit-filled leaders for the 21st century. This great worldwide Spirit-filled movement will prosper and grow only as it provides new and vibrant leadership. San Diego International Bible College hopes to provide a Pentecostal/Charismatic Biblical Education for those in San Diego and all who are called to San Diego and those sent into the Global Harvest. San Diego, with its 2.2 million residents county-wide, is the west coast gateway to Mexico, South America, and to the U.S. Military. Therefore, San Diego International Bible College has been called to be a Stronghold for the equipping of men and women called by God to Reach San Diego and Touch the World with the Good News of Christ.
HISTORY
San Diego International Bible College is an outgrowth of the ministry of Bishop Blair & Helena Holloway and Christian Life Center of San Diego, California. As such, the school has a vital relationship with the Local Church. Having been birthed through Christian Life Center in 2001 as Christian Life Bible Institute, the institution walks in mutual partnership with the church's leadership in fulfilling its mission of preparing and equipping leaders for ministry in the local church and community
MISSION
To equip the Saints for ministry. To provide a place for Spirit-empowered education. To provide a place for Pentecostal/Charismatic expression. To advance the Kingdom of God.
VISION
Establish a Pentecostal/Charismatic educational ministry in the San Diego Region for the equipping of Christians for Ministry
Programs
Graduate School of Practical Ministry